We have adopted this system as our heavy duty commercial duty curtain and cubical curtain track system because of it's superior design, flexibility of installation options, and performance. It is available in a wide range of colors, however, we only inventory white. Other manufacturers only offer theirs in a clear anodized aluminum finish; which usually doesn't coordinate with today's ceiling system colors.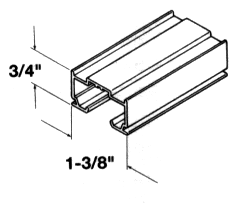 Additionally, the traditional cubical curtain track has a wider profile than does the KS Contract Series track; 1 3/8 inches verses 3/4 inches respectively. This wider profile provides no additional load bearing capacity. As any first year engineering student knows, most of that strength occurs with track height and adequate installation into supporting substrate. A narrower profile also allows us to align our track along the T-grid of the suspended ceiling grid and not interfere with tegular ceiling tiles which are becoming more prominent in today's ceiling design.

Drawing courtesy of:

Furthermore, we have the capability to bend our tracks on the job site to custom fit the track system to the specific application. Tracks come in single lengths up to 20 ft, this enables us to almost always install any track system without the use of splices. Cubical curtain track failures are almost due to inadequate support or improper use of splices. If a cubical begins to snag at a splice, human nature being what it is, the expression, "if it doesn't fit, force it" comes to mind. The condition of the track and curtain quickly deteriorate from that point.
We at Georgia Blind Company understand and appreciate the patient's privacy and confidentiality. The use of proper product, design and installation are required for years of trouble free service.