Top-Lok Cord Lock

Top-Lok holds the blind in a completely raised or lowered position, thus insuring a uniform building exterior. Also, when the blinds are fully raised there is no cord to accumulate on the floor. Top-Lok cord lock comes standard with a 6 inch ring pull (+/-0.5). Top-Lok is especially useful for installations where the headrail is equal or greater than 8 feet above finished floor. Authorized personnel may adjust the blinds by hooking an ordinary window pole onto the ring at the end of the lift cord (pole not included).
Multiple Blinds on One Headrail

For installations such as multiple small windows in a row or conferences rooms, Levolor can construct blinds with more than one unit on a single headrail.

Tiltone Blinds

The Tiltone feature places a Riviera color on the interior side and another color on the outside to maintain a consistent exterior presentation. Matching ladders are also available. If energy savings is important, Tiltone color also includes a white or Cryotherm finish on the outside of the blinds to reflect solar radiation and reduce cooling costs by an additional 25% over solid colors.
Restrictive Tilter

The Restrictive Tilter limits the range of angles the slat will tilt, ensures adequate window ventilation and reduces heat buildup. Maintains a uniform building exterior when using tiltone colors.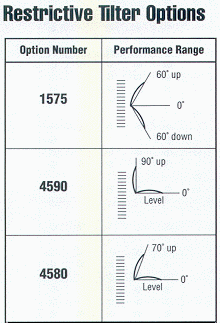 | | |
| --- | --- |
| 2267 | 45°/45° |
| 0782 | 75°/75° |
The restrictive tilter will be one piece construction-no separate cam and retainer is used.
Effective as of 15 November 2002
Definition Edging

Levolor offers definition edging for the sides and bottom of Riviera One Inch Blinds. U-Shaped channels fit around the sides and bottom rail of each slat to increase light control and privacy and to hold bottom rail in place. Channels can be specified in matching or contrasting colors.